Are you looking for an experienced jewelry shop specializing in repairs, appraisals, loose stones, and custom jewelry? Since 1983, Bradshaw's Manufacturing Jewelers has been providing the Dothan, AL area with professional jewelry service. We custom design almost anything you can imagine. We are not a chain store, which means we will accommodate anything you'd like. We are truly experts in our industry. We are family-owned and AGS Certified. Give the experts at Bradshaw's Manufacturing Jewelers a call today, and let us take care of all your jewelry repair, design, and appraisal needs.
The Circle of Life
This is a story of life remembered. A family suffered a tragic loss. The father was killed in a work related accident. Two young girls were left fatherless, with their memories of him. Fortunately, over time, a new window opened. Mom met a wonderful man and the girls loved him, also. And he came to Bradshaw's Jewelers for the perfect ring. And everybody left was going to live happily ever after. Then we had an idea… A way for the girls to have their father with them, forever. We took their dad's wedding band and split it into two circles, one for each girl. Additionally, we took the diamonds from the mom's wedding set to create a circle of diamonds inside each girl's circle from the father's band. A family piece for them to keep forever. Symbolizing their parents' marriage and surrounded by their father's love for them. Always and forever… The Circle of Life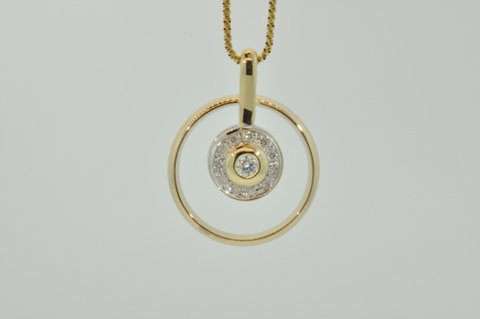 If you have a story you would like to tell, Bradshaw's Jewelers. We make memories come true!